About Us
Home >> About Us
Suzhou Jingle Electronics Technology Co., Ltd
KT Instrument(KingTill) Electronics Manufacturing Co., Ltd

Established in 1998, KingTill is a professional manufacturer of Portable Measuring Meters. We strive for offering the most innovative products with excellent quality and high cost performance to global customers. Although young, we have made brilliant achievements in this niche market with increasingly tough competition.

Product Range
With Factory in Suzhou, we offer a wide range of products including: Digital Temperature Controller, Solar Thermometer, Infrared Thermometer, Digital Thermometer, Cooking Thermometer/timer, LCD Thermo & Hygrometer, Thermocouple Thermometer, Digital Thermo & Hygrometer, Temperature & Humidity Meter, Data Logger, Refrigerant Leak detector, etc.

CE + Calibration Certificate + RoHS
To guarantee quality and reliability of our Digital Data Logger, Temperature Controller, Solar Thermometer, Infrared Thermometer, Digital Thermometer etc. Cooking Thermometer/timer, we take quality control seriously. All our products get CE approvals and Calibration Certificate, meanwhile all the materials used are RoHS qualified.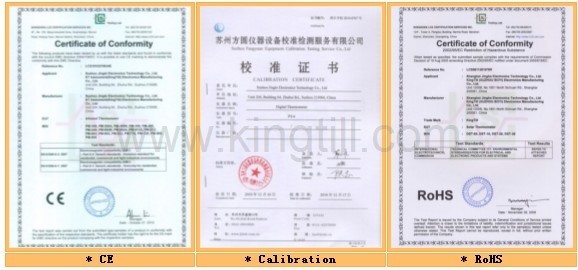 OEM & ODM are welcomed
We have many years experiences for OEM/OEM. Our professional staff and state of the art equipment allow us to have the capability to design and manufacture a wide range of new items according to the buyer's requirements.With our high-quality products and qualified service, we sincerely welcome OEM & ODM and Customer-made orders all over the world.

Corporate Social Responsibility
Besides proving our customers best products, social corporate responsibility is anonther important part of our mission. As an Electronic Digital Temperature Controller provider, KT Instrument sees itself not only as an economic entity but also as a part of society. It is our wish that we build our scientific and business decisions on actions geared towards sustainable development, including social, environmental and economical issues.

Contact Us
URL:www.kingtill.com
E-mail:service@kingtill.com